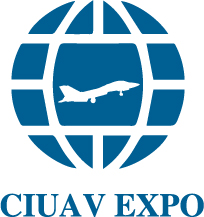 The13
th
ChinaInternational Unmanned System Industry Expo 2022
China Hi-tech fair / Aeropa & Aviation Technogy show
Invitation
Time : November 15-19, 2022
Location : Shenzhen Convention and Exhibition Center
Exhibition background:
China International Hi-Tech Fair (referred to as the High-Tech Fair)Co-organized by the Ministry of Commerce, the Ministry of Science and Technology, the Ministry of Industry and Information Technology, the National Development and Reform Commission, the Ministry of Agriculture, the State Intellectual Property Office, the Chinese Academy of Sciences, the Chinese Academy of Engineering, and the Shenzhen Municipal People's Government. Held in Shenzhen every year, it is currently the largest and most influential technology exhibition in China, and is known as the "China Science and Technology Exhibition".
The high-tech fair gathers results trading, product display, high-level forum, project investment, cooperation and exchange, Focus on the display of advanced technologies and products in the fields of artificial intelligence, intelligent manufacturing, aerospace, unmanned systems, next-generation information technology, energy conservation and environmental protection, biology, new energy, new materials, and new displays. After years of development, the high-tech fair has become an important window for China's high-tech sector to open to the outside world. It plays an increasingly important role in promoting the commercialization, industrialization, internationalization of high-tech achievements and promoting economic and technological exchanges and cooperation between countries and regions. The role.
The 2021China International Hi-Tech Fair was held at the Shenzhen Convention and Exhibition Center. The exhibition area is 120.000 square meters. It includes more than 30 national and regional delegations and about 4,000 exhibitors. Brought about 5,000 high-tech projects and products, and more than 600.000 visitors visited the exhibition.
The State Council recently issued the "13th Five-Year National Strategic Emerging Industry Development Plan" clearly pointed out that the development of multi-purpose UAVs should be accelerated, and civil and industrial-grade UAVs that meet market demand should be vigorously developed. The rise of industry and government support has brought unprecedented development opportunities to the drone industry and related supporting enterprises.
CIUAVEXPO2022China International UAV System Industry Expo will be held in Shenzhen Convention and Exhibition Center from November 16th to 20th, 2022. The theme of the exhibition is "Innovation Driven, Integrated Development". Fully display the latest products and technologies of the domestic and international UAV industry. It is an international industry event featuring product display, trade negotiation and technical exchange. It aims to provide the industry with the showcase of corporate style, development of trading partners, expansion of brand promotion, promotion of corporate products, The best platform for sharing technical trends and interacting with well-known companies at home and abroad, To make a positive contribution to further promoting the healthy development of the drone industry!
CIUAVEXPO2022 will fully integrate the advantageous resources of the government, media, business associations, production, learning, research and other aspects, and apply the drones to various fields. In order to speed up the promotion of the rapid development of China's and even the global UAV industry, it will also become an excellent trading platform for direct communication, procurement and trading.
Exhibition advantages:
►China's aviation industry is supported by governments at all levels and industry leaders
►Leverage the high influence and attention of the high-tech fair in China's high-tech field
►High-end and professional combination
►Complete industrial chain – from materials to machine manufacturing
►The event covers a wide range of events, and each session attracts professional buyers from different countries and regions.
►The world's top 500 enterprise headquarters / R & D center settled in Shenzhen
►The venue has a large airport and a complete aerospace production chain
►Audience positioning China and technology partners from around the world
Co-organizers:
People's Republic of China Ministry of Commerce
People's Republic of China Ministry of Science and Technology
Ministry of Industry and Information Technology of the People's Republic of China
National Development and Reform Commission, People's Republic of China
Ministry of Agriculture and Rural Sciences
State Intellectual Property Office of the P.R.C
Chinese Academy of Sciences
Chinese Academy of Engineering
Shenzhen Municipal People's Government
Contractors:
Guanhui Exhibition (Shanghai) Co., Ltd.
Shenzhen Aerospace Industry Association
China International High-tech Achievements Trading Center (Shenzhen Convention and Exhibition Center Management Co., Ltd.)
Concurrent activities:
Aerospace Industry Development Summit Forum
Aerospace High-tech Project Financing Roadshow
Display range:
1、Machine class: target machine, police drone, agricultural plant protection drone, logistics drone, traffic command drone, maritime drone, emergency rescue drone, fire drone, aerial drone , surveying and mapping drones, border patrol drones, environmental testing drones, water drones, power patrol drones, earthquake relief drones, fishery drones, surveillance security drones, traffic surveillance Man-machine, pipeline inspection drone, unmanned helicopter, etc.;
2、Pneumatic / structural / general / design / material categories: micro drones, unmanned submersibles, unmanned ships, unmanned vehicles, airships, aerospace unmanned aerial vehicles, unmanned paragliders, unmanned boats, unmanned aerial vehicles , composite materials, coatings, landing gear, radomes, etc.;
3, navigation and control categories: navigation and positioning equipment (GPS GNSS inertial gyro combined navigation magnetometer), automatic control system, sensors, autopilot, flight control computer, flight control software and hardware, simulation system, speed measuring device, control simulation , virtual vision system servo servo mechanism, etc.;
4. Task load class: image equipment, video equipment, infrared detection, multi-function optical stabilization platform, television camera, infrared scanner, low-light TV camera, framing camera, panoramic camera, aerial video recorder, aperture radar, optical TV Cameras, framing cameras, aerial video recorders, aperture radars, photoelectric pod sensors, electronic countermeasure mission loads, etc.
5. Energy and power categories: power supply, engine, motor, battery, propeller, gearbox, electronic fuel control, etc.;
6. New materials application categories: 3D manufacturing, graphene technology, carbon fiber composite materials, coatings, precision metal processing technology, etc.;
7. Communication and data link technologies: wireless links, satellite digital data link transmission, ground control stations, equipment vehicles, receivers, transmitters, communication systems, airborne equipment, transponders, etc.;
8. Launching and recycling: launching devices, launchers, recycling umbrellas, blocking nets, recycling systems, automatic take-off and landing systems, braking systems, damping devices, etc.;
9. Industry service categories: anti-UAV system, drone industrial park, drone training institutions, talent promotion agencies, pilot training software developers, financial investment institutions, insurance services, system integration solutions, project release and negotiation Activities, new product launches, various flight simulators, various drone books, etc.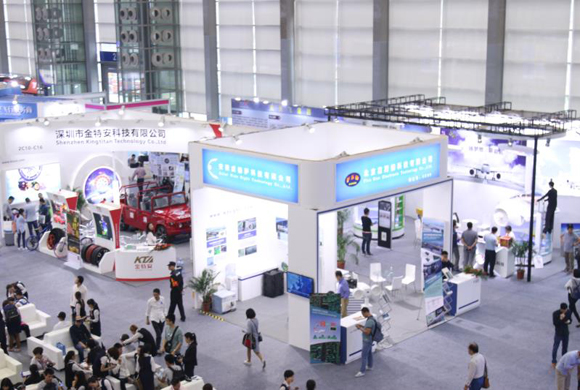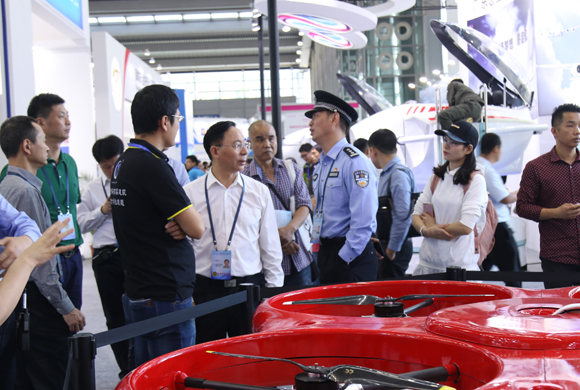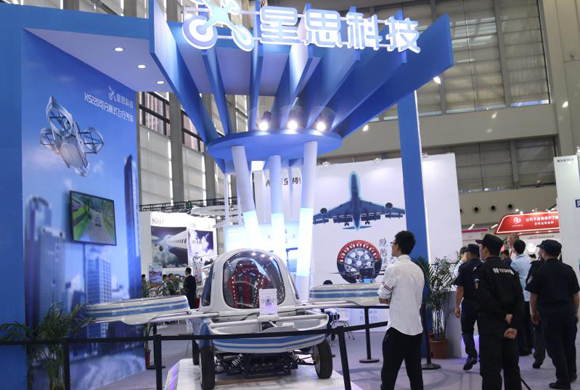 Booth fee:
Standard booth

9㎡(3m×3m)

12㎡(3m×4m)

$USD 4200

$USD 5000

Configuration: fascia board, three-sided display board, one table and two chairs, general lighting, 220V/5A power socket, 2 spotlights

Special booth(36m2 for rent)

$USD 450 / Per square meter

The booth of the bare ground has no configuration, and the exhibitors build their own
Exhibitor program:
Fill in the booth application form, add the chapter, post or fax to the organizing committee. Wire the exhibition fee [50% (deposit) or full payment] to the organizing committee within one week of applying for the booth. The principle of order allocation of booths: "first apply, pay first, arrange first", and the balance will be paid before September 10, 2020 Otherwise, the organizer will regard it as abandoning the exhibition and will not reserve the booth. After receiving the "Application Form for Participation" and the booth fee, the organizer will send the invoice together with the "Exhibition Manual" to the exhibitor.
Technical Seminar:
Domestic enterprises are 20,000 yuan / 30 minutes, foreign-funded enterprises are 5,000 US dollars / 30 minutes, providing: about 200 people meeting rooms, projectors, screens, podiums, chairs, audio, paper, pen, drinking water, pre-show publicity and so on.
Professional audience organization area:
1. Aviation, aerospace, air traffic control, airport, agriculture, land, civil affairs, environment, water conservancy, electric power, environmental protection, transportation, public safety, satellite, meteorology, national defense, armed police, public security, industry, security, fire, medical, environmental protection, Maritime, marine police, monitoring, oceanography, communications, construction, earthquake, film and television aerial photography, surveying and mapping, geography, border defense, coastal defense, civil defense, civil air defense, weapons, ships, rescue, forestry, mining, real estate, remote sensing, detection, survey, Customs, tourism bureaus, universities, petroleum, petrochemical, monitoring, ports, underground construction, transportation, commerce, logistics, finance, trade, professional colleges, disaster prevention and other units, enterprises and foreign embassies in China and other relevant departments and research units And other departments; will directly mail 20,000 invitations to 200,000 tickets to organize professional visitors to visit the exhibition. The exhibition will be published free of charge to the majority of visitors, and will be promoted in more than 100 websites and magazines at home and abroad; to promote the communication between enterprises and users, and maximize the publicity effect of the exhibition.
2. In order to ensure the professional audience organization work in this exhibition is in place, the organizing committee's exhibition promotion and customer service department is responsible for the promotion of the exhibition, the invitation of professional audience organization, customer service and other related work. Through the telephone, fax, mail, e-mail invitation, key customers to visit and other forms of repeated invitations to professional buyers to visit; and provide professional buyers with all kinds of convenience, the professional audience invited to receive the same treatment as the exhibition investment, increase professional The enthusiasm of the audience to visit the exhibition.
CIUAVEXPO2022 Organizing Committee Secretariat:
International Department:
Contact person : Mr. Pan
M.P : 0086(0)188-0182-3515 ( WeChat )
Business QQ : 761199479
E-mail:761199479@qq.com
Official website : www.ciuavexpo.com
Contact person : Miss.He
M.P : 0086(0)18612185892 ( WeChat )
Business QQ : 1181078696
E-mail:1181078696@qq.com
Official website : www.ciuavexpo.com